Meteora Monasteries Two Day Tour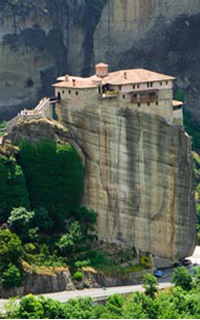 Day 1
Drive through the spectacular sites of Boeotia, Thebes, Levadia and Arachova, you will arrive in renowned Delphi. Two hours at leisure to stroll in the picturesque village, enjoy the breathtaking scenery from the slopes of Mount Parnassus till Itea, take pictures and enjoy a "Greek Coffee". Then you depart for Kalambaka, passing through picturesque villages and towns of central Greece. Dinner & overnight.
Day 2
Visit Meteora and enjoy a unique and most impressive scenery with Ageless Monasteries, containing priceless historical and religious treasures, standings between Earth and Sky atop huge rocks. Return to Athens late in the afternoon via Trikala, Lamia, Thermopylae (visit the Leonidas Monument) and Kammena Vourla.
*Visits to the Archaeological site and the Museum in Delphi are not included.
Pricing and Departure Details
Departures:
April 05 to October 28: Every Monday - Wednesday and Thursday
Saturdays only the following dates: 17/04 - 24/04 - 15/05 - 22/05 - 29/05 - 12/06 26/06 - 17/07 - 31/07 - 14/08 - 28/08 - 11/09 18/09 - 25/09 - 09/10 & 23/10
November to March: Every Wednesday
Rates 2010-2011
Date

Tourist Class Hotel
Rate per person
Single Supplement

First Class Hotel
Rate per person
Single Supplement

1 April 2008 to 31 March 2009
1 April 2009 to 31 March 2010