Three day tour with Meteora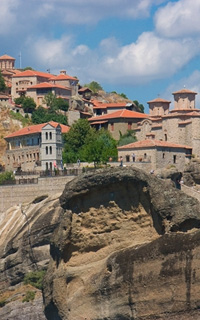 Day 1
Leave for Delphi via Thebes, Levadia and the picturesque village of Arachova, on the slopes of Mount Parnassus (short stop), arrive in Delphi and visit the Sanctuary of Apollo Pythios (Treasury of the Athenians, Temple of Apollo etc.) and the museum. Afternoon free. Enjoy dinner and stay overnight at Delphi.
Day 2
Morning at leisure to enjoy more of this city. Leave Delphi for an interesting trip through Central Greece and the town of Lamia to Kalambaka. Enjoy dinner and stay overnight.
Day 3
Visit Meteora, particularly impressive scenery, ageless Monasteries containing priceless historical and religious treasures, stand suspended between earth and sky, on top of huge granite rocks. Return to Athens via Trikala, Lamia, Thermopylae (visit the Leonidas monument) and Arrive at Athens early in the evening.
Pricing and Departure Details
Departures:
April 04 to October 27: Every Tuesday - Wednesday and Sunday
Fridays only the following dates: 16/04 - 23/04 - 14/05 - 21/05 - 28/05 - 11/06 25/06 - 16/07 - 30/07 - 13/08 - 27/08 - 10/09 17/09- 24/09 - 08/10 & 22/10
Rates 2010-2011
Date

Tourist Class Hotel
Rate per person
Single Supplement

First Class Hotel
Rate per person
Single Supplement

1 April 2009 to 31 March 2010